Fonti e contesti dei miracoli eucaristici delle Cantigas de Santa María 128 e 208
Manuel Negri

Universidade de Santiago de Compostela, Facultade de Filoloxía, Departamento de Filoloxía Galega C.P. 15701, Santiago de Compostela, España, m.negri@usc.es
Palavras-chave:
Cantigas de Santa Maria, Alfonso X, Miracoli eucaristici, Dialogus miraculorum, Rivipullensis
Resumo
Le Cantigas de Santa María 104, 128, 147 e 208 presentano dei miracoli eucaristici dove delle ostie subiscono una trasfigurazione. Le loro fonti non sono ancora state ben definite dalla critica. Questo studio vuole offrire delle nuove ipotesi sui precedenti delle Cantigas 128 e 208, incentrate sul motivo dell'adorazione di un'ostia consacrata da parte di alcune api. Se per la Cantiga 128 si evidenzia l'influenza di una versione contenuta in una collezione miracolistica di provenienza catalana, in quanto portatrice di dettagli condivisi in esclusiva col testo galego medievale, per la Cantiga 208 viene ribadita la presenza, alla base, dell'opera del cistercense tedesco Cesario di Heisterbach, con alcune innovazioni da imputare forse alla stessa corte del sovrano per far fronte ad alcune esigenze dottrinali del tempo.
Riferimenti bibliografici
Fonti manoscritte
Barcelona, Archivo General de la Corona de Aragón, Ms. Rivipullensis 193.
Paris, Bibliothèque Nationale de France, Ms. Par. lat. 14958.
Fonti scritte
ALFONSO X, El Sabio – Cantigas de Santa María. Cantigas 101 a 260. II. Ed. Walter Mettmann. Madrid: Castalia, 1988.
CAESARIUS HEISTERBACENSIS – Dialogus Miraculorum. Vol. I. Ed. Joseph Strange. Coloniae: Bonnae et Bruxellis, Sumptibus J. M. Heberle (H. Lempertz & Comp.), 1851.
ÉTIENNE DE BOURBON – Tractatus de diversis materiis praedicabilibus. Ed. Albert Lecoy de la Marche. Paris: Librairie Renouard, 1877.
GIRALDUS CAMBRENSIS – Gemma Ecclesiastica. Vol. II. in BREWER, John Sherren (Ed.) – Giraldi Cambrensi. Opera. Vol. II. London: Longman, Green, Longman, and Roberts, 1862
Liber exemplorum ad usum praedicantium. Saeculo XIII compositus a quodam fratre minore anglico de provincia Hiberniae. Secundum codicem Dunelmensem editus. Ed. Andrew George Little. Aberdoniae: Typis Academicis, 1908.
PETRUS VENERABILIS – De Miraculis. in MIGNE, Jean-Paul (Ed.) – Petri Venerabilis abbatis cluniacensis noni Opera Omnia. Patrologia Latina 189. Parisiis, 1890, cols. 851-952.
Studi
BARAUT I OBIOLS, Cebrià – "Un recull de miracles de Santa Maria, procedent de Ripoll, i les Cantigues d'Alfons el Savi". Scripta e Documenta 6 (1956), pp. 127-160.
DEXTER, Elise Forsythe – Sources of the Cantigas of Alfonso el Sabio. A thesis submitted to the Graduate School of the University of Wisconsin in partial fulfillment of the requirements for the degree of Doctor of Philosophy. Wisconsin: Madison, 1926.
DISALVO, Santiago – "Gualterus de Cluny, las Cantigas y el niño que ofrece pan a Cristo: reconsideración de una antigua colección de milagros marianos". Hagiographica XX (2013), pp. 123-142.
FERNÁNDEZ FERNÁNDEZ, Laura – "Cantigas de Santa María: fortuna de sus manuscritos". Alcanate: Revista de Estudios Alfonsíes 6 (2008-2009), pp. 323-348.
FERREIRA, Manuel Pedro – "The Stemma of the Marian Cantigas: Philological and Musical Evidence". Bulletin of the Cantigueiros de Santa Maria 6 (1994), pp. 58-98.
FERREIRO ALAMPARTE, Jaime – "Fuentes germanicas en las 'Cantigas de Santa Maria', de Alfonso X el Sabio". Grial 31 (1971), pp. 31-62.
FIDALGO FRANCISCO, Elvira – As Cantigas de Santa María. Vigo: Xerais, 2002.
FIDALGO FRANCISCO, Elvira – "Los animales de las Cantigas de Santa Maria. Una lectura en clave simbólica". Revista de Literatura Medieval 29 (2017), pp. 107-127.
FIDALGO FRANCISCO, Elvira – "'Bestias e animalias de muchas maneras': animales en las Cantigas de Santa María". in PÉREZ BARCALA, Gerardo (ed.) – 'Cui tali cura vel remedio subvenitur'. De animales y enfermedades en la Edad Media europea. Avellino: Edizioni Sinestesie, 2019, pp. 99-119.
HERBERT, John Alexander – Catalogue of Romances in the Department of Manuscripts in the British Museum. London: British Museum, vol. 3, 1910.
KELLER, John E. – "A Note on King Alfonso's Use of Popular Themes in his Cantigas". Kentucky Foreign Language Quarterly I/1 (1954), pp. 26-31.
KITTREDGE, George Lyman – Witchcraft in Old and New England. Cambridge: Harvard University Press, 1929.
MACY, Gary – "Theology of the Eucharist in the High Middle Ages". in A Companion to the Eucharist in the Middle Ages. Leiden-Boston: Brill, 2011, pp. 365-398.
MARTINS, Mário – "O Livro dos Milagres da Bem-aventurada Virgem Maria". Brotéria 70 (1960), pp. 517-532.
MENDES, Augusto de Carvalho – "Os Animais nas Cantigas de Santa Maria (I)". Eikón Imago 8/2 (2015), pp. 15-166.
MONTOYA MARTÍNEZ, Jesús – "El culto a la Eucaristia y sus derivaciones mágicas en el siglo XIII". La corónica: A Journal of Medieval Hispanic Language, Literatures, and Cultures XXXVI/1 (2007), pp. 189-196.
NASCIMENTO, Augusto Aires – Milagres medievais numa colectânea mariana alcobacense. Edição crítica, tradução e estudo. Lisboa: Colibri, 2004.
NEGRI, Manuel – "Una nuova fonte per Li Miracoli de Senta Maria: il ms. Rivipullensis 193". Critica del testo XX/1 (2017), pp. 65-103.
NEGRI, Manuel – "Rielaborazioni agiografiche alfonsine: il caso della Cantiga de Santa María 369". Carte Romanze 8/1 (2020), pp. 75-115.
PARKINSON, Stephen – "Alfonso X, Miracle Collector". in FERNÁNDEZ FERNÁNDEZ, Laura; RUIZ SOUSA, Juan Carlos (coord.) – Alfonso X El Sabio 1221-1284. Las Cantigas de Santa María, Códice Rico, Ms. T-I-1, Real Biblioteca del Monasterio de San Lorenzo de El Escorial, El Códice Rico de las Cantigas de Santa María. Vol. II. Madrid: Editorial Testimonio, 2011, pp. 79-105.
PARKINSON, Stephen – "The Miracles Came in Two by Two: Paired Narratives in the Cantigas de Santa Maria". in CONDE, Juan-Carlos; GATLAND, Emma (ed.) – Gaude Virgo Gloriosa: Marian Miracle Literatura in the Iberian Peninsula and France in the Middle Ages. London: QMUL, 2011, pp. 65-85.
PARKINSON, Stephen – The Oxford Cantigas de Santa Maria Database [In linea]. Oxford: Centre for the Study of the Cantigas de Santa Maria, actual. 2 luglio 2020. [Consultato il 2 luglio 2020]. Disponibile all'indirizzo http://csm.mml.ox.ac.uk/?p=home.
PARKINSON, Stephen; DEIRDRE, Jackson – "Collection, Composition and Compilation in the Cantigas de Santa Maria". Portuguese Studies 22 (2006), pp. 159-172.
PONCELET, Albert – "Index miraculorum B.V. Mariae quae saec. VI-XV latine conscripta sunt". Analecta Bollandiana XXI (1902), pp. 242-360.
SCHAFFER, Martha – "Los códices de las "Cantigas de Santa María": Su problemática". in DOMÍNGUEZ RODRÍGUEZ, Ana; MONTOYA MARTÍNEZ, Jesús (eds.) – El scriptorium alfonsí: de los Libros de astrología e las 'Cantigas de Santa María'. Madrid: Editorial Complutense, 1999, pp. 127-148.
THOMPSON, Stith – Motif-Index of folk-literature. A classification of narrative elements in folktales, ballads, myths, fables, mediaeval romances, exempla, fabliaux, jest-books, and local legends. Revised and enlarge edition. Bloomington: Indiana University Press, 1955-1958.
TUBACH, Frederich – Index exemplorum: a handbook of medieval religious tales. Helsinki: Academia Scientiarum Fennica, 1981.
Downloads
Não há dados estatísticos.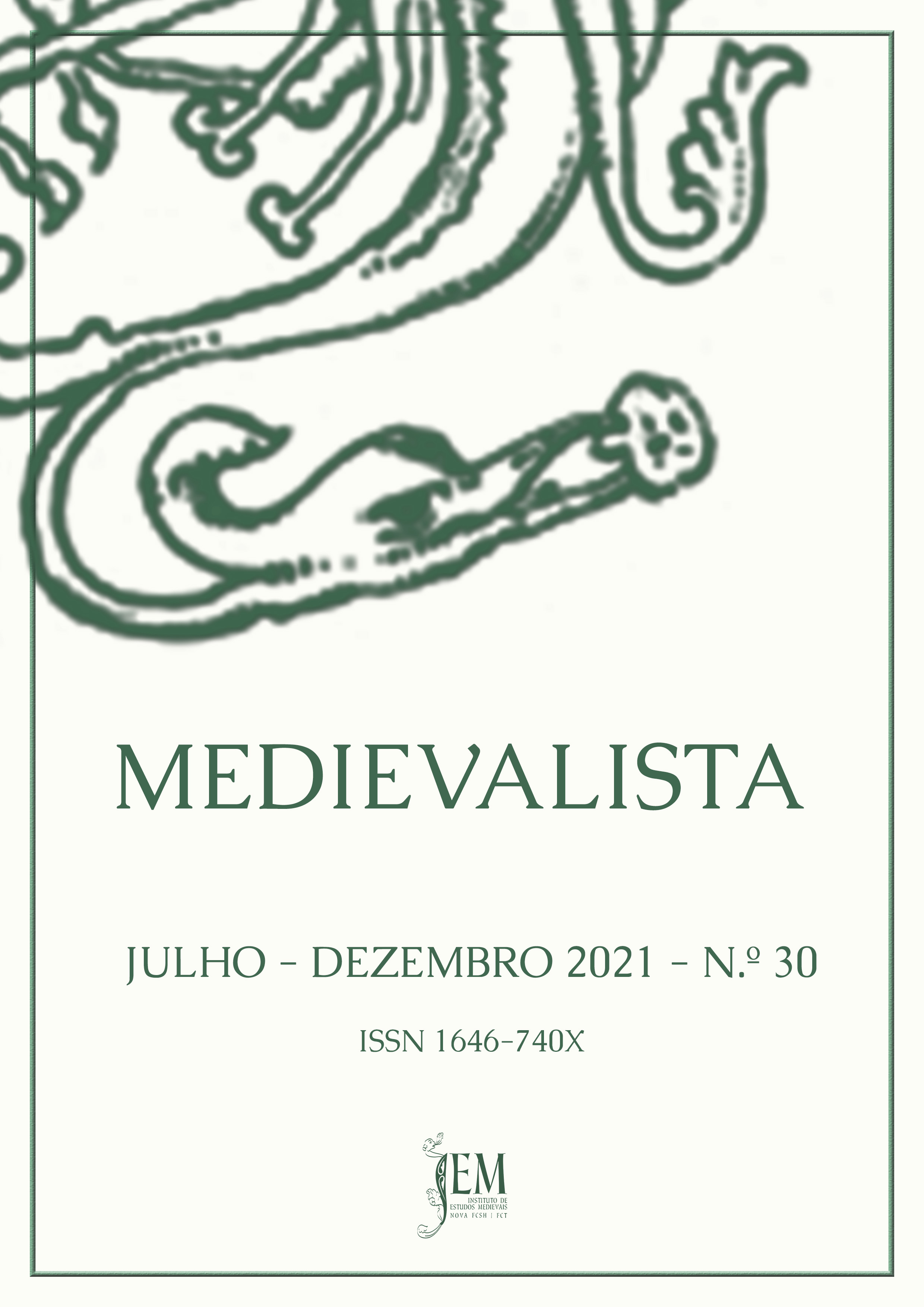 Como Citar
Negri, M. (2021). Fonti e contesti dei miracoli eucaristici delle Cantigas de Santa María 128 e 208. Medievalista, (30), 249-274. https://doi.org/10.4000/medievalista.4548