Roger Machado, um português ao serviço dos primeiros soberanos Tudor
Francisco Leitão

University of Cambridge Faculty of History CB3 9EF, Cambridge, United Kingdom, francisco.leitao@gmail.com
Palavras-chave:
Roger Machado, diplomacia medieval, relações anglo-portuguesas, relações anglo-espanholas
Resumo
O artigo analisa a vida e actividade diplomática de Roger Machado, diplomata português que serviu os reis ingleses entre o final do século XV e o início do seguinte. O maior destaque é dado aos diários escritos pelo próprio como testemunho das embaixadas levadas junto aos Reis Católicos e a João II de Portugal. Os documentos são contextualizados no quadro das relações diplomáticas existentes entre os três países.
Referências bibliográficas
Fontes manuscritas:
British Library, Londres, MS Harley 69, fols 1-2r.
College of Arms, Londres, MS Arundel 51.
National Archives, Londres, C1/66 nº297.
National Archives, Londres, E 403/844.
Fontes impressas:
CAMPBELL, W. (ed) – Materials for a history of the reign of Henry VII from original documents preserved in the Public Record Office. Londres: Longman & Co, 1877.
Early English Text Society. Londres: Oxford University Press, 1867.
GAIRDNER, James (ed) – Memorials of King Henry the Seventh. Londres: Rolls Series, 1858.
GARCIA MERCADAL, José (ed)– Viajes de extranjeros por España y Portugal: Desde los tiempos más remotos hasta fines del siglo XVIII. Vol. 1. Madrid: Aguilar, 1952.
NASCIMENTO, Aires Augusto (ed) – Leonor de Portugal, Imperatriz da Alemanha. Diário de viagem do Embaixador Nicolau Lanckman de Valckenstein. Lisboa: Cosmos, 1992.
PINA, Rui de – Crónicas de Rui de Pina. Introdução e revisão por M. Lopes de Almeida. Porto: Lello & Irmão, 1977.
RYMER, T. (ed) – Foedera, conventiones, litterae, etc. Londres: per A. & J. Churchill, 1704-1735.
VASCONCELLOS, J. (ed.) – Relação da embaixada flamenga, 1428-1430 e viagem de Jehan Van-Eyck a Portugal. Porto: s.n., 1897.
VERGIL, Polydore – The Anglicahistoria of Polydore Vergil. Ed. Denys Hay. London: Royal Historical Society, 1950.
Estudos:
AILES, Adrian – "Machado, Roger (d. 1510)". in Oxford Dictionary of National Biography. Oxford: Oxford University Press, 2004. [http://www.oxforddnb.com/view/article/17527, accessed 3 April 2014].
AUBIN, Jean – "D. João II et Henry VII". in Congresso Internacional Bartolomeu Dias e a sua Época: Actas.Vol. I. Porto: Comissão Nacional para a Comemoração dos Descobrimentos Portugueses, 1989, pp. 171-180.
BELLO LÉON, Juan Manuel – "Una embajada inglesa a la corte de los Reyes Católicos y su descripcíón en el "Diário" de Roger Machado". in En la España Medieval. vol. 26 (2003), pp. 167-202.
BRIDGEN, Susan – New Worlds, Lost Worlds. The rule of the Tudors 1485-1603. London: Penguin, 2000.
CHILDS, Wendy – "The perils, or otherwise, of maritime pilgrimage to Santiago de Compostela in the fifteenth century". in STOPFORD, Jennie (ed.) – Pilgrimage Explored. Woodbridge: D. S. Brewer, 1999, pp. 123-144.
CHRIMES, S. B. – Henry VII. London: Eyre Methuen, 1972.
CURRIN, John – "Henry VII and the treaty of Redon (1489): Plantagenet ambitions and early Tudor foreign policy". in History. The Journal of the Historical Association.vol. 81 (1996), pp. 343-358.
DUOSSINAGUE, José Maria – La política internacional de Fernando el Católico. Madrid: Espasa-Calpe, 1994.
FERNANDEZ LOPEZ, Olga – "Caminos y violencia en el Madrid Medieval". inSEGURA GRAÍÑO, Cristina (ed.) – Caminos y caminantes por las tierras del Madrid medieval. Madrid: Asociación Cultural Al-Mudayna, 1994, pp. 244-250.
GIRY-DELOISON, Charles – "Money and early Tudor diplomacy. The English pensioners of the French kings (1475-1547)".in Medieval History.vol. 3 (1993), pp. 128-146.
GODFREY, Walter – The College of Arms, Queen Victoria Street, being the Sixteenth and Final Monograph of the London Survey Committee. Londres: London Survey Committee, 1963.
GUNN, Steven – "The Courtiers of Henry VII". in English Historical Review 108 (1993), pp. 23-49.
GUY, John – Tudor England. Oxford: Oxford University Press, 1988.
JONES, Michael – "Les Ambassades de Roger Machado, le héraut Richmond en Bretagne (1490)" in 1491, La Bretagne.Brest: Centre de Recherche Bretonne et Celtique; Société Archéologique du Finistère, 1992, pp. 147-160.
MARQUES, A. H. de Oliveira – "Notas para a História da Feitoria Portuguesa na Flandres no Século XV". in MARQUES, A. H. de Oliveira – Ensaios de história medieval. Lisboa: Sá da Costa, 1965, pp. 217-267.
MARTINEZ MARTINEZ, Maria – "La creación de una moda propia en la España de los Reyes Católicos". in Aragón en la Edad Media.vol. 19 (2006), pp. 343-380.
ROTH, Cecil – "Sir Edward Brampton: an anglo-jewish adventurer during the wars of the roses". in Transactions (Jewish Historical Society of England). Vol. 16 (1945-1951), pp. 121-127.
RUIZ, Teófilo – "Violence in late medieval Castile: the case of Rioja". in Revista de História 133 (1995), pp. 15-36.
RUMEU DE ARMAS, Antonio – Itinerario de los Reyes Católicos, 1474-1516. Madrid: Instituto Jerónimo Zurita, 1974.
SEQUEIRA, Joana – Production Textile au Portugal à la fin de la Moyen Âge. Porto-Paris: Faculdade de Letras da Universidade do Porto – Écoles des Hautes Études en Sciences Sociales, 2012.
SERRÃO, Joaquim Veríssimo – Itinerários de el-Rei D. João II (1481-1495). Lisboa: Academia Portuguesa da História, 1993.
SUÁREZ, Luis – Política Internacional de Isabel la Católica. 6 vols. Valladolid: Instituto "Isabel la Católica" de Historia Eclesiástica, 1965-1972.
TORRE, Antonio de la – "Maestro Antonio, ynglés, pintor". in Fernando el Católico y la cultura de su tiempo. V Congreso de Historia de la Corona de Aragón. Vol. V. Saragoça: Instituto Fernando el Católico, 1961, pp. 165-172.
URIA MAQUA, Juan – "Los matrimonios de Catalina de Aragón base de la alianza entre Inglaterra y Castilla". in Estudios en Homenaje a Don Claudio Sánchez Albornoz en sus 90  años. Vol. V. Ávila: Anexos Cuadernos de Historia de España, 1990, pp. 403-429.
VARELA, Consuelo – Ingleses en España y Portugal (1480-1515): aristócratas, mercaderes e impostores.Lisboa: Colibri, 1998.
WAGNER, Anthony – Heralds and Heraldry in the Middle Ages: An Inquiry into the Growth of the Armorial Function of Heralds. Londres: Milford, Oxford University Press, 1939.
WATSON, Gemma – Roger Machado, a life in objects. Southampton: s.n., 2013.
YERUSHALMI, Y. H. – The Lisbon massacre of 1506 and the Royal Image in the Shebet Yehudah. Cincinnati: Hebrew Union College-Jewish Institute of Religion, 1976.
Downloads
Não há dados estatísticos.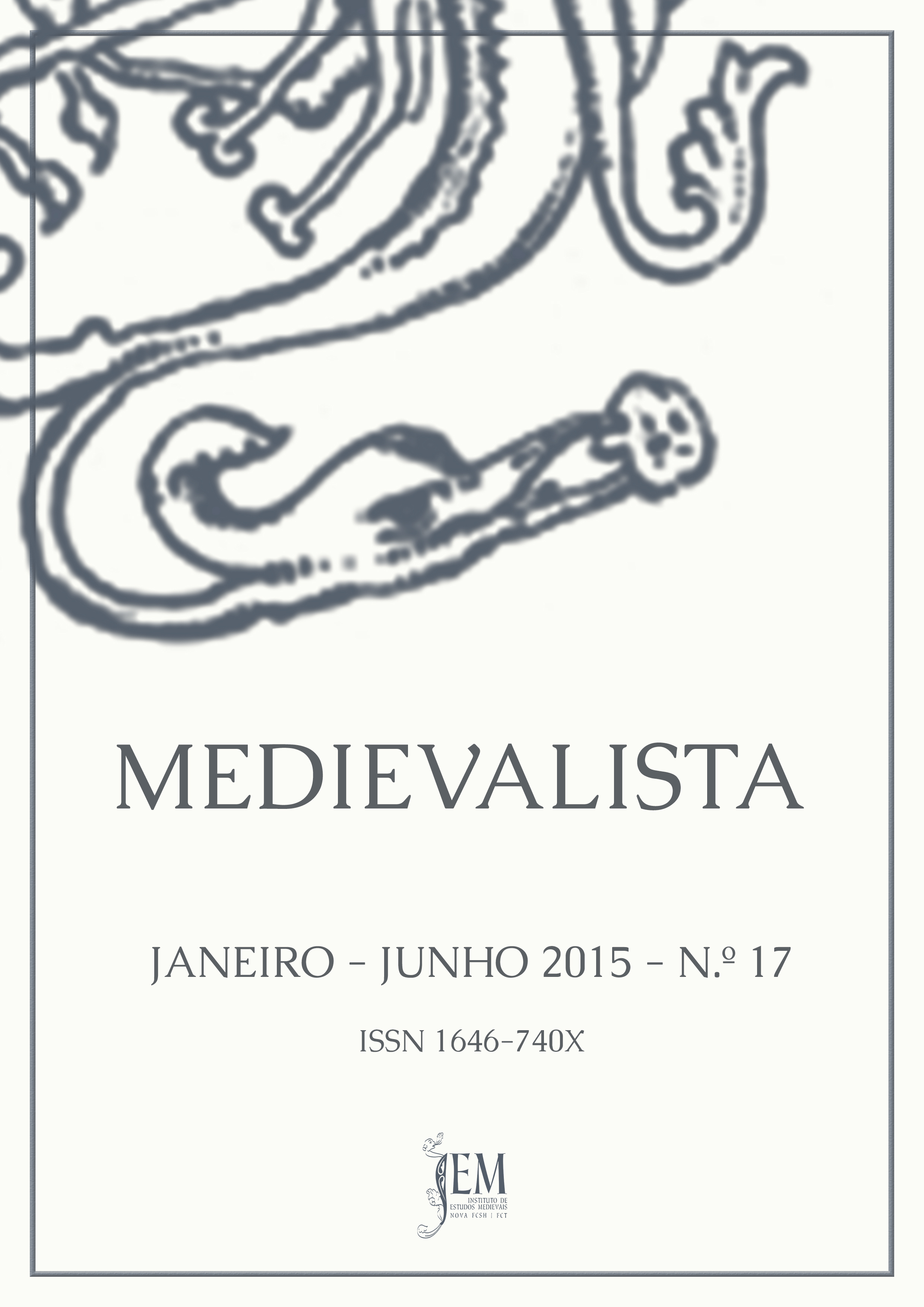 Como Citar
Leitão, F. (2015). Roger Machado, um português ao serviço dos primeiros soberanos Tudor. Medievalista, 1(17). https://doi.org/10.4000/medievalista.1515